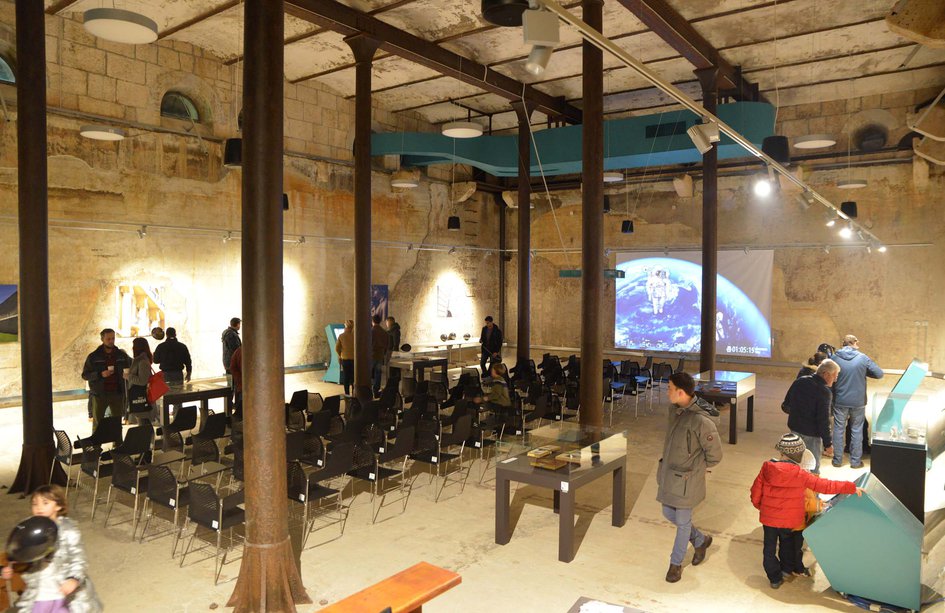 Herman Potočnik Noordung Visitor Centre (water reservoir)
The story of the water reservoir represents an interesting and important episode in the history of public utility services in the city of Pula. Its construction dates back to the third quarter of the 19th century, a time of intense building activity in the city that demanded the construction of adequate utility services and, above all, the tackling of the issue of public water supply and sewerage.
The new water supply service was put into operation in 1861, drawing water from a spring located at Karolina used since antiquity. The selected location for the construction of the new water reservoir was on top of the Kaštel hill, outside the fortification, to where water was pumped from the spring and then distributed to the consumers. 
Due to the growing need for water in the 1870s, a new, additional water reservoir was built along the north curtain wall inside the fortification's yard, connected to the old reservoir by a stone arch that extended over the northern trench. An iron pipe was installed on the arch to supply additional quantities of water from the water spring at Karolina by means of a suction pump, located on the roof of the new reservoir (the arch was unfortunately demolished in 1964 because it posed a potential hazard for the visitors). Following the construction of the new reservoir which occupied almost half of the fortress yard, the inner space of the fort was also reconstructed. The reservoir served its original function until the 1960s. In 2015 the reservoir was transformed into a multimedia hall - the Herman Potočnik Noordung Visitor Centre. 
The Visitor Centre at Kaštel is dedicated to Herman Potočnik Noordung, a pioneer of astronautics born in Pula 120 years ago.